Check out this Monday class. It's Papier-mâché Monster Making! Channel your inner Dr. Frankenstein with this creative class in papier-mâché sculpture. Learn to create monsters, dinosaurs, dragons or whatever beasts haunt your imagination. Be prepared to get messy and have fun!
Youth & Teen Art classes are open for enrollment. We have two new instructors joining us at Mooresville Arts and all new programs. Join a class today to help your young artist flourish.
~~~ MONDAYS with Kalleen ~~~
5:00 pm -- Youth Art Club (ages 7-13)
6:00 pm -- Zine Makers (ages 9-18 )
7:00 pm -- Teen Art - Paper Mache Creatures (ages 12- 18 )
~~~ WEDNESDAYS with Lexii ~~~
4:30 pm -- Cartooning & Illustrations - Teens (ages 12-18 )
5:30 pm -- Introduction to Cartooning & Illustration (ages 7-13)
6:30 pm -- Creative Kids (ages 5-9)
Cost of tuition includes all supplies and weekly hour long classes. Monthly tuition is just $40. Tuition is pro-rated and you may start classes at anytime. Call 317-437-0102 to reserve a spot on the class roster.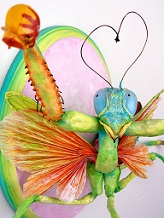 Categories: None