The Mooresville Arts Partnership is proud to announce that the new Community Center building is open and now enrolling for Fall 2015. It has been quite a journey, from the fundraising, to the hard work transforming this wonderful building into our new home. MAP now features 8,500 sq. feet of classroom spaces, which includes the ballet room, acro room, performance stage, community room, two music rooms, a youth art room and beginner dance room. We've installed sprung floor and Marley for our dance spaces, tuned up all the pianos, stocked the youth art room, and continue to make changes everyday as donations are received to improve each teaching space. We are excited to see the growth in our students and can only look forward to all the great things which they will accomplish here at the new MAP. The importance of providing an arts education to our students is a responsibility and a privilege which we whole-heartedly embrace. Now here's a bit of what's coming up in the next couple weeks:
 CLASSES: All our Fall 2015 classes are available for enrollment at this time, but hurry because many of the most popular class are filling fast. Visit https/app.thestudiodirector.com/mooresvillearts/portal.sd?page=Enroll&meth=search to enroll today. You may enroll online and attend class that same day, if you wish.
In addition to expanding all our fine arts and dance department offerings for our younger students , we have also added many adult level classes. We currently offer Yoga, Ballroom, Tap, Jazz, Ballet Fitness, Pointe, and Workin'It Wednesdays to the schedule, as well as, our Life Drawing Group and Introduction to Watercolor. Workshops and events are also planned for the new Community Room space in the coming months.
ARTS in the PARK: Our Annual Festival
Plein Air painting, free art activities, music, dancing, and dramatic performances, as well as food from local vendors and art displays by local artists, all at the new Mooresville Arts Partnership in Mooresville!
 Plein Air painting check in begins at 9am and continues throughout the day--come paint or come watch the artists at work! At 10am other events will begin--free art activities for all ages, performances by musicians and dance groups, canvas & cookies, art demonstrations, and more! There will be food from local vendors and artists' work on display and for sale!
 To register to paint, to sign up for booth space, to sponsor an art table, to get involved, or to get more information, contact Rosemary at MooresvilleArts@gmail.com
 All plein air check in and festival activities will take place on the grounds of the new The Mooresville Arts Partnership building, 697 Indianapolis Rd, Mooresville IN 46158. From there, painters are welcome to explore the town and local parks for subject matter of their choice or remain on grounds.
OPEN AUDITIONS for NUTCRACKER: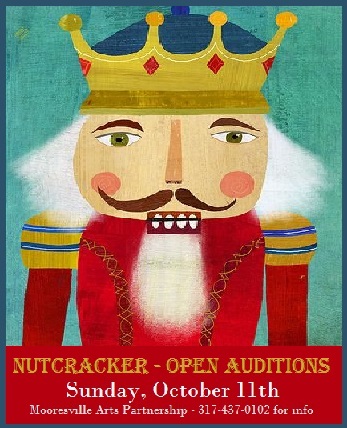 Open Audition for the Mooresville Arts Presentation of Nutcracker Celebration be will Sunday October 11th. Dancers, tumblers and performers of all ages are invited. You need not be a current MAP student or company member to audition.
Ages 8 & under - Arrive at 1:00pm -- Audition at 1:15 pm
Ages 8-12 - Arrive at 2:00pm -- Audition at 2:15pm
Ages 13 & up - Arrive at 3:15pm -- Audition at 3:30 pm
*Optional pointe audition at 4:30
Please arrive at the posted arrival time to complete Registration Forms and to complete the registration process.
Audition viewing is closed and the parent hospitality area will be available outside the studio. Parents will have the opportunity to sign up to volunteer for a committee. Your dancer will be released at the end of auditions. Please plan to promptly pick your dancer up then.
Ladies: Pink tights, black leotards, ballet shoes, hair secured in a bun
Boys: White t-shirts, black dance shorts, ballet shoes
Auditions will include a sampling of ballet, tap, tumble & jazz. All dancers should bring dance shoes for the styles of dance they wish to audition. For more information, please call 317-437-0102
Categories: None