What does dancing mean to you? This is a question I like to ask my students. They typically don't have an answer right away, so I tell them to think about it and get back to me, watching the gears turn in their minds as we proceed through class. I ask them this because it is not something one usually thinks about at the young age that most of us start dancing, and I believe it is an important part in a dancer's training. We all know that dance classes aren't cheap. Being a dancer takes up a lot of time, and it is a lot of hard work. But it is also one of the most rewarding experiences I have had the pleasure of encountering in my life, and I feel honored to be able to continue sharing that passion with my students. Becoming part of a competition team can not only help them realize that passion, but further strengthen and nourish it. It can help them create physical, mental, and emotional building blocks to carry with them and provide structure to build upon for years to come.
The foundation of a competition team is combining that passion with technique. Of course you can have one without the other, but possessing both is what creates a well-rounded dancer. In our team classes, we focus not only on technique, but musicality and dynamics as well through choreography and improvisation exercises. We use the knowledge and skills students learn in these classes to choreograph competition routines that are tailored to the students' strengths, but also present a challenging aspect. Over the course of the season, we see these routines come to life as we watch their hard work pay off at the various competitions we attend. And if we're lucky enough, we see their love for dance emerge stronger come the next season, and their technical skills improved.
But that is just one facet of being on a competition team. We are building stronger dancers but we are also building stronger, more confident, compassionate people. The friendships students make in a dance class go beyond the studio walls. My best friends even to this day are people I danced with from a young age. As these are formative years, we encourage camaraderie through team building, as well as being respectful of others, which is important when competing against other studios. Performing on stage helps instill confidence in a young dancer and person, which also starts in the classroom. There is a balance between being instructional and being critical, and that is something we as teachers are responsible for imparting in and out of the classroom.
So, what does dance mean to me? It has always been my saving grace. It is an outlet for self-expression, a tool for creating self-discipline, and a calming sense of stress relief. When I walk into the studio, the rest of the world falls away. I hope to inspire my students in the same way they inspire me, and provide them with the many opportunities that being on a dance team offers.

Is Your Child Ready for Piano Lessons?
The Mooresville Arts Partnership offers private piano lessons with Ms. Jan Aldridge Clark and with Ms. Sara Callanan. Lessons are 30 minutes each week with the instructor of your choice. If you've been looking for lessons but wondered if your child is ready, there are a few questions to ask yourself.
Each child is unique.If your child shows these signs, he or she might be ready to start piano lessons!
INTEREST Does your child show interest in the piano by approaching the instrument to explore and to play on it. Does your child show high interest in music and instruments? Independently singing songs or trying other instruments such as the guitar or string instruments can be a strong indication of interest. It is important that your child has a curiosity and interest in piano. The student should WANT to take lessons.
FOCUS Will your child be able to sit at the piano for the majority of a half hour lesson? A typical lesson at Mooresville Arts includes a variety of activities, from warmups to song practice. If your child has a hard time staying focused for a half hour, it might be best to hold off on lessons till they can maintain their focus for longer periods of time. 
READING ABILITY While a set age does not determine readiness, students must have some level of independent reading. Piano method books often assume that the child can read at least some of the directions. If your child cannot read, then you will need to sit with them as they practice to guide their at home practices.
PRACTICE Is your child willing to work? Consistent practice is the most important element to your child's success. Piano students must practice and while much of the material they will play is "fun," practicing is hard work. Ask your child if they are prepared to go to the piano at least 5 days a week and spend 15-30 minutes practicing. If the answer to that questions is no, then they are not ready for lessons. Only so much can be accomplished in even the most productive of lessons. Continued at home practice helps a student progress more quickly and maintain growth in their piano abilities.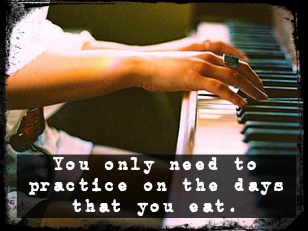 A student does not need to own a piano, a decent keyboard is pretty affordable these days and a great option for practice. Our in studio pianos may also be requested for practice time during classtime hours, if not in use. With any performance art, practice is a vital key to improvement. Piano lessons strengthen a students ability to focus and grow in other disciplines. Determination to practice has many rewards.
For more information on available piano lessons, contact mooresvillearts@gmail.com or call 317-437-0102.